Whether it is for holidays, birthdays, Veterans Day, or any occasion, there are many great times to thank and honor a veteran in your life. They have responded to the call of duty and put their lives on the line to protect and defend the country, so show your appreciation with a gift that is suited just for them.
If you are not sure how to acknowledge and honor your friends or family members who have served, consider the veteran gift ideas below for commemorative, sentimental, and personal gifts.
What Makes a Good Veteran Gift?
From fun veteran gift ideas to more sentimental options, a gift for a veteran can be just about anything. To help you choose, first consider the occasion, then think about a gift you can give that:
Shows you're thinking of them: As you come up with veteran gift-giving ideas, remember the most important part is showing that you're thinking of them. Whether they've recently made the return to civilian life or they served decades ago, any veteran will appreciate the thought you put into a gift for them, no matter the occasion.
Offers your gratitude: Even the smallest gifts can show the magnitude of your appreciation for the veterans in your life. Thank them with gifts that show you recognize their sacrifices and appreciate the freedom they have given you.
Recognizes their loyalty: Serving for any branch of the military requires loyalty to the country. Recognize and honor that strength and fidelity with military veteran gift ideas that honor a veteran's specific branch.
Represents patriotism: Veterans make sacrifices for the country that shouldn't go unnoticed and that develop a strong sense of patriotism. Gift them something that features a nod to the nation they fought and served for, whether it features the U.S. flag or another symbol of the country.
Is something personal: Any good gift is personal in a way. With gifts for veterans, your ideas will always be personal in some way, but you can give even more sentimental gifts when you keep in mind what your veteran friend or family member enjoys. Whether they collect something or have a passion for history, you can find plenty of veterans gift ideas that incorporate their interests.
Veterans Day gift ideas, or gifts for any holiday or occasion, can achieve all the above. If you still aren't sure what to give to a veteran as a gift, consider the suggestions in the guide below.
Army Veteran Gift Ideas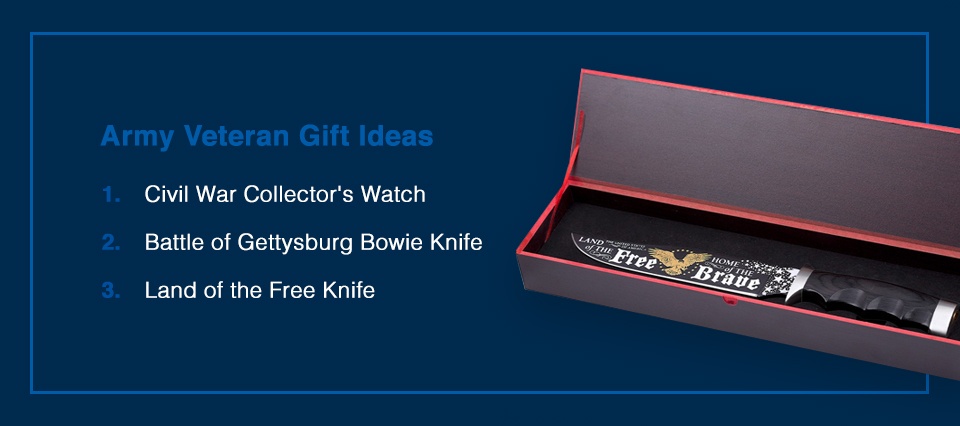 Honor a U.S. Army veteran's service in the oldest branch of the military. These gift ideas connect them to the past and recognize their loyalty to the United States.
1. Civil War Collector's Watch
Connect the rich history of the Army's past with the present sacrifices of soldiers and honor the Army veteran in your life with a Civil War collector's watch. This stunning collector's watch commemorates the turning point of the American Civil War in Gettysburg, Pennsylvania. With a gold-toned metal and precision quartz movement, a Civil War collector's watch is both a functional and historical gift to give an Army veteran.
2. Battle of Gettysburg Bowie Knife
Commemorate the Battle of Gettysburg in a way that any Army veteran will appreciate. Designed with the National Civil War Museum, this Bowie knife features a pommel guard that resembles a Civil War officer's sword. The blade includes an etched tribute to Confederate General Robert E. Lee to commemorate the sacrifices on both sides of the Civil War. Get this Battle of Gettysburg Bowie knife, an excellent Army veteran gift idea, exclusively from American Mint.
3. Land of the Free Knife
This patriotic knife would make an honorable gift for any military veteran, but veterans of the U.S. Army are sure to appreciate it. Celebrating the patriotic sacrifices of every military member, a land of the free knife quotes the national anthem of the United States. It's sure to fill any veteran with pride with what they've done for this country. At American Mint, you'll find this collectible land of the free knife in a matte black finish, perfect for any style.
Air Force Veteran Gift Ideas
While the aerial service warfare branch is the second youngest military branch in the U.S., its members are just as essential to American freedom. Celebrate the Air Force veteran in your life with some of these gift ideas.
1. Boeing B-17 Flying Fortress Commemorative Coin
Known as the Flying Fortress, the Boeing B-17 became the reliable long-range bomber used by the U.S. throughout World War II. Veterans with an interest in flight and history will admire an American Mint silver-plated coin that features the Boeing B-17 and is a member of the military planes of Pearl Harbor coin collection.
2. "Spirit of St. Louis" Commemorative Coin
If flight fascinates the Air Force veteran in your life, give them a commemorative gift that, while not directly related to military service, still honors the achievements of United States Army Air Service member, Charles Lindbergh. With his non-stop flight over the Atlantic Ocean, Lindbergh embodied the American spirit that lives within every military veteran, but the connection to flight makes a detailed "Spirit of St. Louis" commemorative coin an ideal gift for an Air Force veteran.
3. Bald Eagle Bowie Knife
As our nation's symbol, the bald eagle represents the patriotic veteran you know. With the bald eagle's soaring wingspan, a Bowie knife with an engraved bald eagle can symbolically represent the aerial branch of the military as well. The remarkable symbol also represents the American spirit, which any veteran is sure to appreciate. Find an exclusive bald eagle Bowie knife design at American Mint, crafted in 420 stainless steel.

Navy Veteran Gift Ideas
Commemorate your veteran's service with the naval branch by giving them a thoughtful gift that reflects on the past. Gift the Navy veteran in your life with a commemorative coin that acknowledges and celebrates past achievements of the U.S. Navy.
1. USS Arizona Commemorative Coin
The USS Arizona was one of the first ships sunk in the attack on Pearl Harbor in 1941. A commemorative coin that honors the sacrifice of the crew aboard the USS Arizona would make a great gift idea for a Navy veteran who also has an interest in history. Get this USS Arizona commemorative coin exclusively from American Mint. The silver-layered finish lets the highly detailed image of the USS Arizona stand out.
2. Pearl Harbor Commemorative Coin
Get a more general commemoration of history with a Pearl Harbor coin. At American Mint, you'll find a one-of-a-kind collectible that includes a portrait of President Franklin D. Roosevelt and the USS Nevada with a silver-plated finish and gold plating accents. Again, this coin would be an ideal gift for a veteran with an interest in the past. Pair it with the USS Arizona commemorative coin to help the veteran in your life fill or begin a coin collection.
3. The Battle of Midway Commemorative Color Coin
One of the most essential battles in World War II, the Battle of Midway was fought in 1942. Seven months after the events of Pearl Harbor, the U.S. Navy defeated the Japanese fleet, which helped establish the superiority of the U.S. for the rest of the war. Honor those events with a commemorative color coin that Navy veterans are sure to appreciate. The Battle of the Midway coin includes a detailed portrait of American Fleet Admiral, Chester Nimitz, and a color tableau of the battle.
Marine Veteran Gift Ideas
Recognize the honor and willingness of the Marine veteran you know with gift ideas related to this branch of the military. Whether they include a nod to history or recognize past, present, and future Marines all in one, these gift ideas are ideal for Marine veterans.
1. Semper Fidelis Commemorative Coin
Featuring the motto of the Marine Corps, the "always faithful" coin reflects the pride veterans have for their service and their country. Thank the Marine veteran in your life with American Mint's Semper Fidelis commemorative coin, made of copper and silver-plated or layered in gold with a detailed engraving of the Marine Corps' symbol. You can also choose a version in an archival shell that includes a history of the Marine Corps' motto.
2. Iwo Jima Commemorative Coin
Honor the U.S Marines who fought for victory in Iwo Jima during World War II. The small island was the difference between victory and defeat during the war. When the brave Marines hit the shores, they fought for days to reach the island's summit. An Iwo Jima commemorative coin honors the sacrifices of those Marines and recognizes how essential they were to victory. Thank a Marine veteran for their own sacrifices with an Iwo Jima commemorative coin in a gold-layered finish.
3. Iwo Jima Military Knife
An Iwo Jima military knife honors the Marines who fought during World War II in a different yet equally impressive way. Gift a veteran knife made to resemble the combat knives Marines carried during WWII. Connect the Marine veteran you know to the branch's past while recognizing Marines from history and today. Find this exclusive, limited-edition Iwo Jima military knife from American Mint.
Other Gift Ideas for Veterans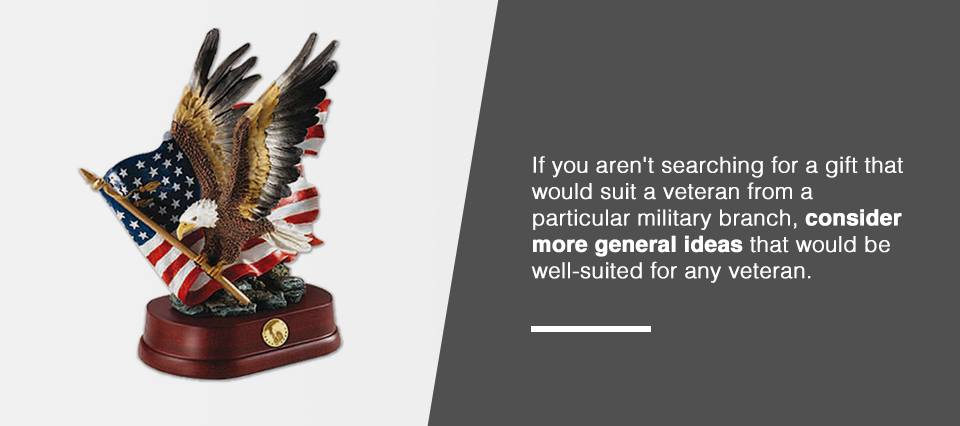 If you aren't searching for a gift that would suit a veteran from a particular military branch, consider more general ideas that would be well-suited for any veteran. Any of these veteran-inspired gift ideas would be great for Veterans Day or other holidays.
1. National Pride Bald Eagle Sculpture
Any veteran will have loyalty to the United States, and any veteran would be proud to display a beautiful bald eagle sculpture among other memorabilia and collectibles. This bald eagle statue is a handcrafted symbol of the nation's strength and the perfect way for the veteran you know to display their national pride. Thank them for their sacrifices and fearlessness with a sculpture that reminds veterans what they served for.
2. 1849 Liberty Head Gold Double Eagle Pocket Watch
Another gift that incorporates our national symbol, the Double Eagle pocket watch is a stunning, functional gift for the veteran in your life. With a gold-plating finish and precision watch movement, this pocket watch is a sophisticated gift for those who have an interest in history and the antique.
3. American Freedom Pendant
This wearable gift lets a veteran display their pride as well as remember the freedom they served for and the bravery it took. A stainless steel dog tag is rugged and simple, perfect for a wide variety of tastes. Gift a veteran the exclusive design of an American freedom pendant that includes a bold message of patriotism. With an eagle and two American flags under "USA" on the front and the words "proud," "brave," and "free" on the reverse side, this exclusive design is only available at American Mint.
6. Freedom Knife
Give the veteran in your life a stunning, quality knife to display. A freedom Bowie knife features the patriotic word in a bold, sophisticated font with Patrick Henry's famous quote below. The handle enhances the patriotic look with a bald eagle, American flag and other touches. For another style, consider a prestige edition of the freedom knife. A simulated bold handle features a patriotic bald eagle and the gold-tone blade displays the word "freedom" in that proud font.
Find Veteran Gift Ideas From
American Mint
From commemorative coins to a variety of other collectibles, you'll find plenty of gift ideas to honor the military veteran in your life at American Mint. We're your reliable partner for all your collecting and gift-giving needs. We have a wide range of themes among our collectibles, so you're sure to find something for the veterans you know.
Browse our commemoratives, commemorative military coins, and other collectibles to find the perfect veteran's gift ideas today. At American Mint, we'd be honored to help you honor the military veterans in your life.
Sources: