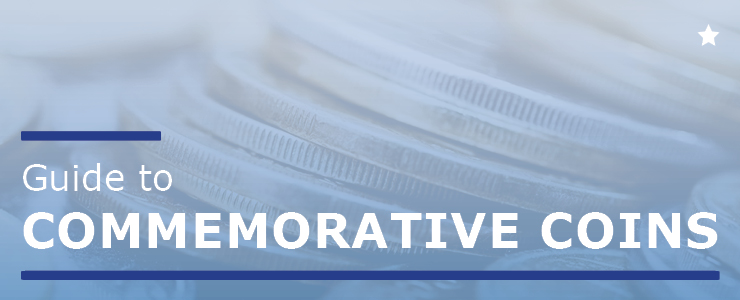 Have you ever picked up a coin and noticed that it had a different design than normal? It could have been a dollar coin, a quarter or something else entirely. Whatever it was, you noticed that it didn't have its usual design. Instead, it depicted a figure, a place or even an event.
If this has ever happened to you, then you might just have stumbled across a commemorative coin. But what are commemorative coins? What is their value, and how do you find them?
These are all excellent questions, especially if you enjoy coin collecting. To help determine the answers, we've compiled this guide to commemorative coins.
What Is a Commemorative Coin?
The simplest definition is that commemorative coins are special coins that are designed and minted to remember and honor significant people, events or places. What makes these coins different than ordinary coins, however, is the fact that only a specific number of them are made. They are also only minted for a brief period before the design is retired, and the mint returns to using the ordinary markings.
One other aspect to note is that when a commemorative coin is minted, it's not the only coin produced at that time. Traditional coins are also minted. Then, whether commemorative or traditional, these coins are all sent out into circulation alongside one another, and they would all have the same year on them.
Another type of commemorative coin is minted specifically as a type of fundraiser for organizations or groups. These coins are often sold directly to collectors and will usually be sold at a higher price than its face value. Commemorative coins can be sold at this higher value because they're unique and limited edition. Collectors are willing to pay more because there aren't many of them — not because the coin is inherently valuable.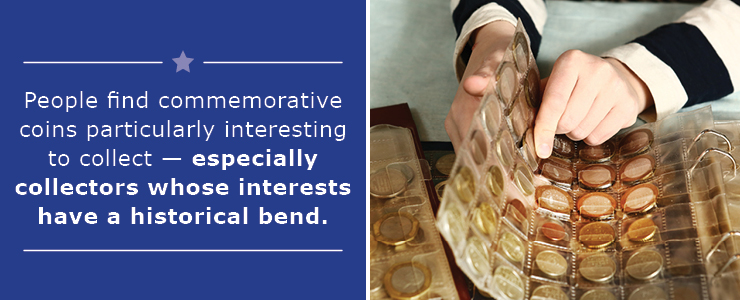 Since there are so many different varieties, people find commemorative coins particularly interesting to collect — especially collectors whose interests have a historical bend. In many cases, the subjects of these coins are historically significant people, places or events.
Who Creates Commemorative Coins?
The United States Mint creates the commemorative coins in the physical sense. They're minted in the same place that ordinary coins are minted and using much of the same process.
However, Congress is responsible for the creation of these commemorative coins. They depict subjects that are important enough to warrant an appearance on national currency, even if in most cases the currency is never truly intended to enter circulation.
The specific designing of the commemorative coin is usually done by the organization or group that will be benefitting from it.
Why Are Commemorative Coins Created?
Traditionally, commemorative coins were designed and distributed by niche groups that needed money for their current project, whether that was funds to support an organization or raise a new monument. Congress had to approve the minting of these coins, but the primary purpose was to raise funds for these groups and organizations.
In the modern era, reforms have been put in place that prevent commemorative coins from being abused as potential avenues of fundraising. They are still used in this manner, but not nearly to the extreme that they were in the early era.
Commemorative coins are also minted for collectors. While their first purpose is to raise money and create national recognition for a person, event or place, they're also minted with the knowledge that collectors will pay good money for them.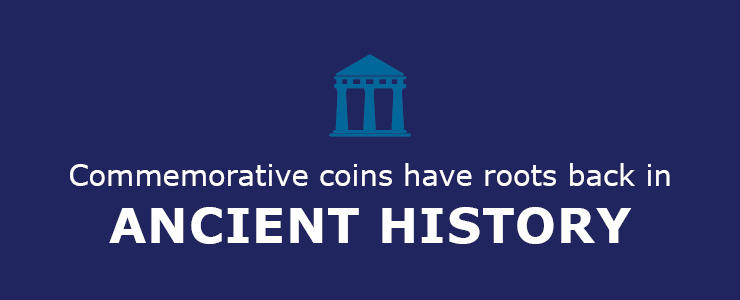 Commemorative Coins in History
While the commemorative coin may seem like a relatively modern invention, you might be surprised to learn that it has its roots back in ancient history. Almost every civilization had one form or another of the commemorative coin. They would be used to showcase great rulers or extraordinary events in the culture's history. In some cases, these types of coins would even be used to spread current news and information throughout a country.
While we no longer use commemorative coins to disseminate information, these types of coins have not changed that much from their original form. They're still used to mark noteworthy people and events and keep them alive in the public imagination.
Commemorative Coins in the United States
In 1892, the United States minted its first commemorative coin to honor the World's Columbian Exposition. This marked the start of early commemorative coins in the U.S., and it didn't stop there. From this point onward, many more commemorative coins were issued. They were typically minted in either gold or silver and were usually reserved for honoring and commemorating special-interest groups that had influenced Congress in one way or another. This era of classic commemorative coins ended in 1954.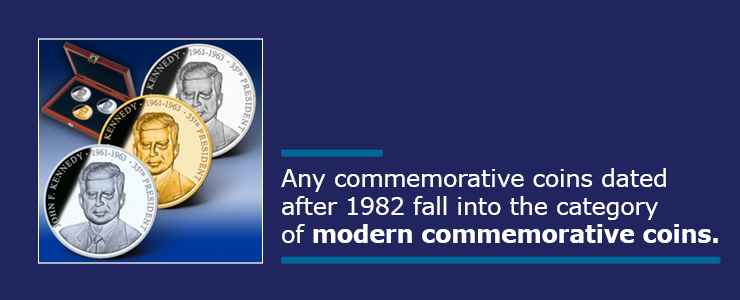 After a brief period where no coins of this type were issued, Congress again began to approve commemorative coins. In 1982, the George Washington's 250th Anniversary of Birth coin was released. This half-dollar coin marked the start of a new era of commemorative coins in the U.S. Any commemorative coins minted after this date fall into the category of modern commemorative coins.
However, the same problems that had plagued the first era of commemorative coins quickly returned. Coins would be issued that specifically supported small special-interest groups and helped specific causes. In many cases, the coins were being used as little more than fundraisers for the pet cause of whichever group had received the particular coin.
In an effort to correct this problem and put an end to the abuse of commemorative coins, Congress passed a law that, beginning in 1998, would allow no more than two subjects a year to be minted onto commemorative coins.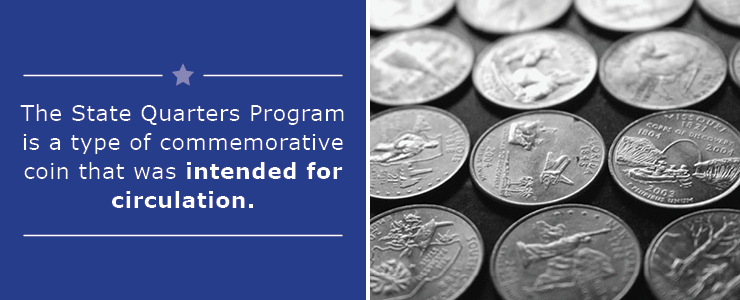 Do Commemorative Coins Enter Circulation?
This is another point that makes commemorative coins confusing. Most commemorative coins are not intended for circulation. They're created to honor a specific person or event and are usually designed to raise money for a specific group. After they're sold, they enter the hands of collectors or other interested parties.
However, there is a different type of commemorative coin that is intended to directly enter circulation, and this is where the confusion comes from. One common example of this type of coin is the State Quarters program. This was an initiative that began in 1999 and lasted until 2008, where the U.S. Mint released five different designs on quarters every year, with each design honoring a different state.
More recently, the America the Beautiful Quarters have been released that showcase some of America's most beautiful state parks. These are just a couple of the examples of the types of commemorative coins that were intended to enter circulation directly. These coins are quite common, and while they are fun to collect, they do not hold any special value.
Can I Spend My Commemorative Coins?
Technically, all commemorative coins are legal tender. However, because these coins are worth much more to dealers and collectors, it would be quite ill-advised to simply spend one at the grocery store or the mall. If you chose to do that, your money would be accepted, and you could make the transaction. But the coin would only be worth its face value in this transaction, instead of the amplified value it would have to a collector or a coin dealer.
Because of this, it is highly recommended that you do not spend your commemorative coins.
Should You Collect Commemorative Coins?
The first and most important answer to this question is that we can't tell you what to collect. No one can tell you that. Coin collecting is about finding the coins that interest you and collecting them. That might mean the most valuable coins. It might mean the rarest coins. It also might mean the prettiest coins, the coins that reference your home state, the coins that include images of flowers or Lady Liberty — or anything else in the world.
Coin collecting is your journey and, therefore, there is no right or wrong way to do it. By extension, then, there is no way to answer the question of whether or not you should collect certain coins.
To better answer this question, then, let's break it down into separate questions.
1. Are Commemorative Coins Valuable?
This question has two answers. The first answer is that no, most commemorative coins don't have extremely high intrinsic value. Their gold or silver content typically is no higher than any ordinary coin you might receive as change at the grocery store. This means that if you were to melt the coins down to their base metals and sell them, they would not be worth very much at all.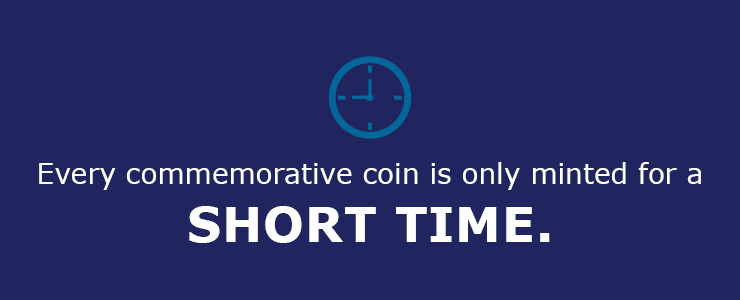 However, intrinsic worth isn't the only kind of value a coin can have. When it comes to commemorative coins, they typically have a different kind of value that's rooted in their rarity. Every commemorative coin is only minted for a short time. This means the value of every coin increases. Even though a coin might not have a very high gold or silver content, collectors are typically willing to pay far more than the face value for it.
It might be easiest to think about this in terms of supply and demand. When a commemorative coin is first minted, the supply is almost unlimited. Hundreds of thousands of these coins are minted, and there are plenty of go around. Since they are commemorative, their price may be higher than their face value, but not by much.
However, there are laws that govern how many commemorative coins can be minted. These same laws dictate that these coins can only be sold for a year. After this time, all the coins that were not sold off are melted down. There are always exceptions to these laws, but they make up the majority of cases. This means the supply drops off at this definite period. The supply continues to decline over time, while the demand does not. This means that most coins only become more valuable as they grow older and rarer.
If this type of value is the driving force behind your coin collecting habits, then you won't be disappointed with commemorative coins. Spend time learning about them, though. Learn which ones are relatively common, which ones pop up occasionally and which ones are exceptionally rare.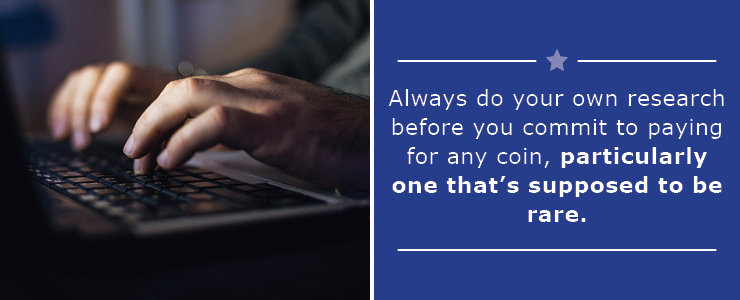 One word of caution in this area is to always get a second opinion on the rarity and value of a coin. Advertisements can be cleverly phrased in a way that make it sound like a coin is more valuable than it is. Or coin dealers might even be mistaken about the value — not because of dishonesty but because of a genuine mistake. Always do your own research before you commit to paying for any coin, particularly one that's supposed to be rare.
2. Are Commemorative Coins Interesting?
The variety of subjects covered in commemorative coins is staggering. You can find coins commemorating baseball, the end of the Korean War, presidents' birthdays and so much more.
If you're a history buff, you'll undoubtedly appreciate the history behind each commemorative coin. You might seek out commemorative coins that have a particular significance to an event that you're interested in. Or maybe you're fascinated by a specific decade of U.S. history and decide to collect coins from that era. You might also choose to focus on a geographic area and decide to collect coins that depict people, places and events from one specific state or part of the country.
Another possibility is that maybe you aren't interested in history. Maybe you prefer to enjoy the unique images on the coin. This is another way to collect coins, and commemorative coins are perfect for this. Maybe you like collecting every coin that features a presidential profile or every one that depicts a nature scene. Maybe you're a big sports fan, and you want to collect every coin that commemorates a historic sporting event.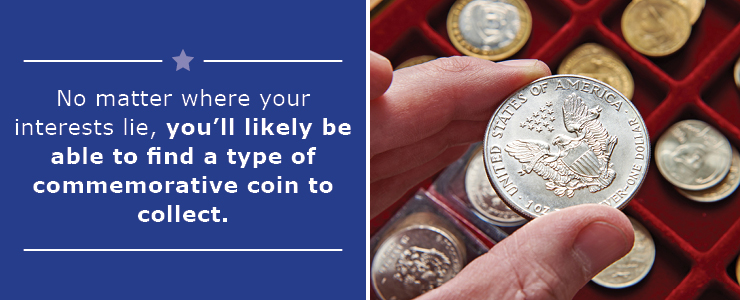 No matter where your interests lie, you'll likely be able to find a type of commemorative coin to collect.
Some of the Modern Commemorative Coins You Might Encounter
Even if we ignore the era of classic commemorative coins and focus solely on those that came from the modern era, a complete list would be far too long to include here. Still, it's important to look at even a non-exhaustive list. You can learn what kind of subjects are commemorated on coins, as well as develop some idea of what commemorative coins you might come across in your searches.
With that in mind, here are just a few of the commemorative coins that have been issued since 1982:
1982: George Washington Commemorative Half-Dollar
1983-1984: Los Angeles Olympics Commemorative Series
1986: Statue of Liberty Commemorative Series
1987: Constitution Bicentennial Commemorative Series
1988: Seoul Olympics Commemorative Series
1989: Congress Bicentennial Commemorative Series
1990: Eisenhower Bicentennial Commemorative Dollar
1991: Korean War Memorial Commemorative Dollar
1991: United Service Organizations Commemorative Dollar
1991: 50th Anniversary of World War II Commemorative Series
1992: Christopher Columbus Quincentenary Commemorative Series
1992: White House 200th Anniversary Commemorative Dollar
1992: XXV Olympics Commemorative Series
1993: Thomas Jefferson Commemorative Dollar
1994: U.S. Capitol Bicentennial Commemorative Dollar
1994: U.S. Prisoner of War Memorial Commemorative Dollar
1994: Women in Military Services Commemorative Dollar
1994: Vietnam Veterans Memorial Commemorative Dollar
1994: World Cup Tournament Commemorative Series
1995: Special Olympics Commemorative Dollar
1995: Centennial Olympics Commemorative Series
1995: Civil War Battlefields Commemorative Series
1996: Smithsonian Institution 150th Anniversary Commemorative Series
1996: National Community Service Commemorative Dollar
1997: Jackie Robinson Commemorative Series
1997: Botanic Gardens Commemorative Dollar
1998: Black Revolutionary War Patriots Commemorative Dollar
1999: Dolly Madison Commemorative Dollar
1999: George Washington Death Bicentennial $5 Coin
1999: Yellowstone National Park Commemorative Dollar
2000: Leif Ericson Millennium Commemorative Dollar
2000: Library of Congress Bicentennial Commemorative Series
2001: Capitol Visitor Center Commemorative Series
2001: American Buffalo Commemorative Dollar
2002: Salt Lake City Olympic Games Commemorative Series
2002: West Point Bicentennial Commemorative Dollar
2003: First Flight Centennial Commemorative Series
2004: Thomas Edison Commemorative Dollar
2005: Chief Justice John Marshall Commemorative Dollar
2005: Marine Corps 230th Anniversary Commemorative Dollar
2006: Benjamin Franklin Commemorative Series
2006: San Francisco Old Mint Commemorative Series
2007: Jamestown 400th Anniversary Commemorative Series
By looking at this abbreviated and incomplete list, we can get a sense of the wide range of subjects covered by commemorative coins. From sporting events to war memorials and past presidents to exploration anniversaries, there's something of interest to everyone when it comes to commemorative coins.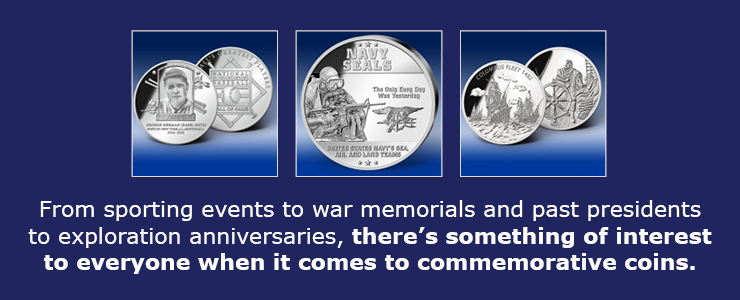 Start Your Collection of Commemorative Coins Today
It doesn't matter if you collect coins for their rarity and value, for their subject matter, place of origin, historical significance or pure aesthetic value. No matter which group you fall into, there are plenty of commemorative coins that will fit into your collection.
If you're looking for commemorative coins to start a collection or add to an existing one, we'd like to invite you to browse our selection at American Mint. We offer a wide selection of high-quality products at reasonable prices you can afford.
And in case you're new to coin collecting and are feeling unsure about knowing what to buy or are wondering about the authenticity of items, we understand that, too. We provide a guaranteed claim of authenticity that certifies the size, materials and authenticity of whatever it is you want to purchase.
In addition to this, we also offer a money-back guarantee. That means if you're not satisfied with your purchase for any reason at all, we'll take it back within 20 days of purchase. In return, you'll receive a replacement item, credit to your account or a full refund.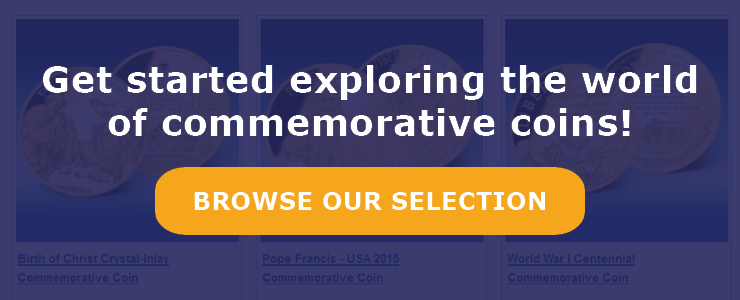 We want to be your partner in your coin collecting journey. To get started exploring the world of commemorative coins, browse our selection today. If you have any questions about commemorative coins, don't hesitate to contact us.